OVER 50 YEARS OF ADVENTURE EXPERIENCE

More than five decades ago, a young German left his home country with nothing in his pocket, but was blessed with courage and curiosity to get to know the big world. Over the years he has lived in several European countries and overseas, learning five foreign languages ​​and surviving through determination and willpower.
Peter Rohmer knows how to stand his man even in difficult situations. In over 40 years of Brazil experience he did have to overcome tricky situations with a pistol on his head more than once.
A man with many talents, a great love for Brazil, its adventures and its people. Peter Rohmer knows Brazil like no other travel guide and, in contrast to most of the other providers, he always tailors the customers' travel wishes to their individual needs and offers private and unique adventures instead of the usual mass tourism. His passion for the spectacular and largely untouched landscapes, the friendships with the locals and the unique wildlife with which this extraordinary land is blessed, is contagious.
Roughly thirty years ago Peter has founded Southern Cross Tours&Expeditions . Since the very beginning, when he pioneered  and developed sustainable and participative forms tourism in Brazil, his ideas and visions are integrated part of the companies philosophy.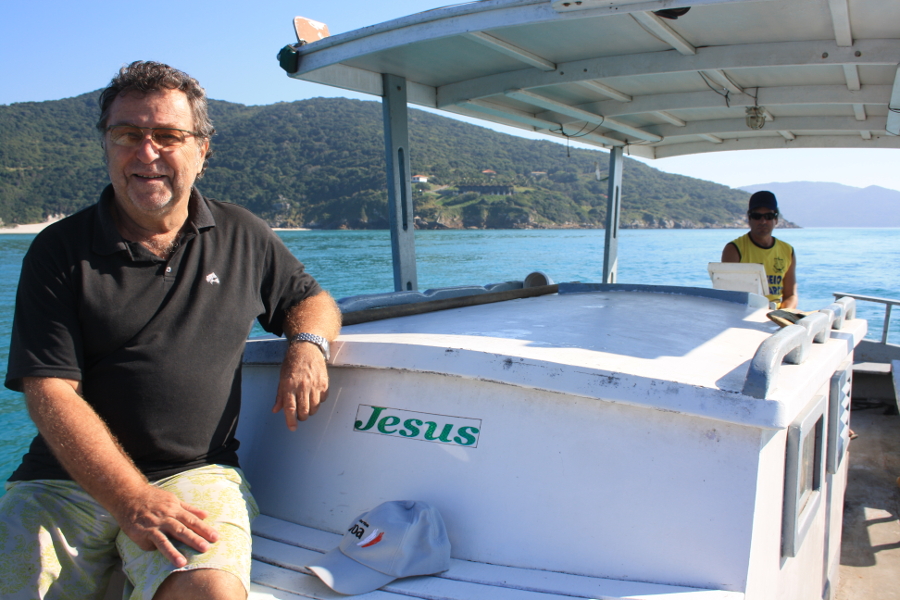 DISCOVER the amazon WITH US
Since the first European explorers set foot in the Amazon Basin in 1541, the Amazon rainforest has held a mystique that foreigners from around the globe find hard to resist. Almost every die-hard traveller at some point in time has thought about exploring the Amazon Basin. The very mention of it evokes images of dense rainforest, an incredible diversity of flora and fauna, and indigenous tribes. The total area, including neighbouring countries as Colombia, Venezuela, Guyana, Suriname, French Guyana, Peru, Bolívia and Equador, covers an area of 7,050,000 square kilometres (2,700,000 sq mi), 5,500,000 (2,100,000 sq mi) of which is rainforest.
Often referred to as the "Lungs of our Planet", the rainforest produces an estimated 20 percent of the Earth's oxygen. However, because decomposition of plant matter absorbs much of this, the Amazon's true gift to Planet Earth is its cooling effect. The Amazon rainforest is home to one in ten known species in the world, making it the largest collection of living plants and animal species in the world. Of the nine South American countries over which it sprawls, Brazil is home to 60 percent of this lush, tropical rainforest.
A trip to the Amazon jungle transports you to a world of extraordinary sights and sounds. The towering trees and meandering rivers teem with exotic life. From the rainbow-coloured macaws to the pink freshwater dolphins, you cannot help but be enthralled with the unusual creatures that surround you as you journey through the jungle.
With Southern Cross Tours and Expeditions, you will experience a part of the Amazon rarely seen by the average tourist. Whether you are looking for a tour or an expedition our itineraries are designed and structured for travellers demanding more than just a completion of a round trip. Our expert guides will lead you through the rainforest by foot and along the river by canoe, enabling you to get up close and personal with the diverse tropical flora and fauna. We set up a base camp with hammocks in the middle of the forest that allows you easy access to the rivers, where you can catch fish to cook on an open fire.
At Southern Cross Tours and Expeditions, we don't do anything half way! We want you to get the most out of your Amazon experience, so we arrange tours that traverse the most intriguing parts of the jungle.
Manaus is the capital of the state Amazonas, and known as the entrance gate to the Amazon rainforest. It is from here that most foreigners start their journeys into the rainforest, and where you'll be starting your journey with us too! With 30 years of experience in the tourism industry, we take pride in our team of experienced and knowledgeable guides that will ensure you experience the trip of a lifetime!
If you are interested in exploring other parts of Brazil have a look at our other unique travel packages.
WHO WE are

For more than 30 years, Southern Cross Tours & Expeditions has been providing travel that excels in exceptional content, authenticity and sustainability. Due to our proximity to our customers, our many years of experience and our knowledge of the country, we offer discerning travelers the best travel plans to meet their high demands.
Your travel adventure, your dream trip, our commitment! High performance at a fair price - that's what Southern Cross Tours & Expeditions stands for!
Do you have any further questions about Southern Cross Tours & Expeditions? Just contact me!
WHAT DO WE OFFER?

A complete overview of our Tours & Expeditions can be found below or under the corresponding items in the main menu.
For further reference you may also want to have a look at our guest comments at:
https://amazon-travel-brazil.com/amazon-tours-brazil/amazon-trip-of-a-lifetime#guest-comments
https://amazon-travel-brazil.com/amazon-tours-brazil/amazonia-rainforest-manaus-jau-anavilhanas#guest-comments
https://amazon-travel-brazil.com/amazon-tours-brazil/amazon-adventure-tour-jau-national-park#guest-comments
What are you waiting for? Let's get started!