overview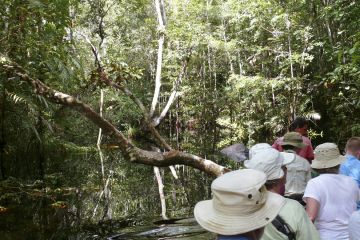 Imagine traveling on ten tumbling Amazon Rivers so remote that you never meet other travelers. Instead, you chance upon enchanted waterfalls. Lagoons, hidden deep in the emerald rainforests. Feel the eyes of the forest animals watching you.
On this tour you have unique opportunities to interact with the river peoples and remote tribes largely untroubled by tourists. On route you meet Waimiri-Atroari, Sataré-Mawe, Tukano, Dessano but also Baniwa, Baré and the Yanomami. Among them, the Yanomami will include you on their jungle hunting trips. Watch how they have hunted and fished along the Cauaburis River for centuries. Very few get to witness this sight.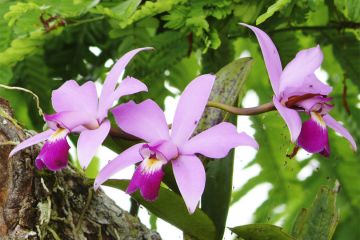 As you traverse the rainforest and paddle the rivers, the unrivaled biodiversity of flora and fauna will reveal itself to you in all its glory, unlike anywhere else on earth. Here, in "the lungs of the world," Great Nature is in its most primitive but yet in its most developed state. The great riot of color, sound and creatures is mesmerizing.
Whether you will be botanizing in the deep forest identifying epiphytes, orchids, bromeliads or medical plants on which most of our modern medicine is based, or, armed with your camera, on wildlife safari for birds, mammals, reptiles, amphibians or insects you have never heard of, you will be overwhelmed by the natural treasures jungle and rivers are offering you.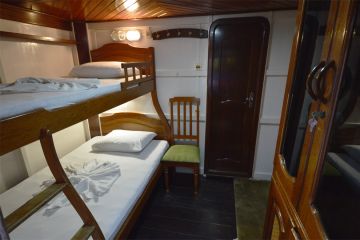 This is my beloved Amazon. While you are here, you'll be in the experienced hands of my best guides and pilots who have extensive knowledge of the lore and legends of the Brazilian rainforest and its inhabitants. They will ensure that you will draw from Nature's bounty every drop she can offer of the strange, the unknown, the magic of this magnificent rainforest.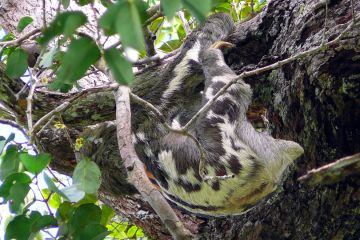 Because of the extraordinary nature of this tour, it is not offered regularly. Nor does it compete with the common offerings of most other operators. It is limited only to eight travelers who genuinely wish to explore, experience and embrace this environment on their own terms. We will do this only twice in 2017.
If you are that adventurer, we invite you to join us on a life-transforming journey into the heart of the Brazilian Amazon, where few have gone before. I personally guarantee your delight in the experience. You will never be the same.
Why come with me?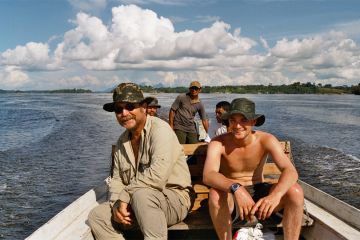 Nearly five decades ago, I began my adventure at the tender age of eighteen with nothing more than curiosity and guts in my pocket when I left my native land of Germany. That, combined with my natural hard-headedness, a flair for languages guided me across multiple continents, many countries and finally here to Brazil.
In my earliest trail-blazing days, not only did I have to learn to survive the deep jungle, I had to survive the rough vaquero environment, having had gun held against my head in the big cities on several occasions. While those days are long gone, you can be assured that I know my way out of a tough spot. My guides are the best, and you can trust us to take you to the deepest wilderness and get you back safely.
Many years ago, with my great passion for this untamed land, I carved out the first tours for riders and adventurers in Brazil. I wish to share it with you: the deep jungles, the warm friendship of its peoples and the unique creatures that can only be found here.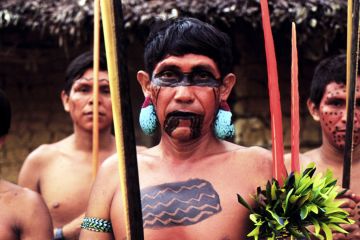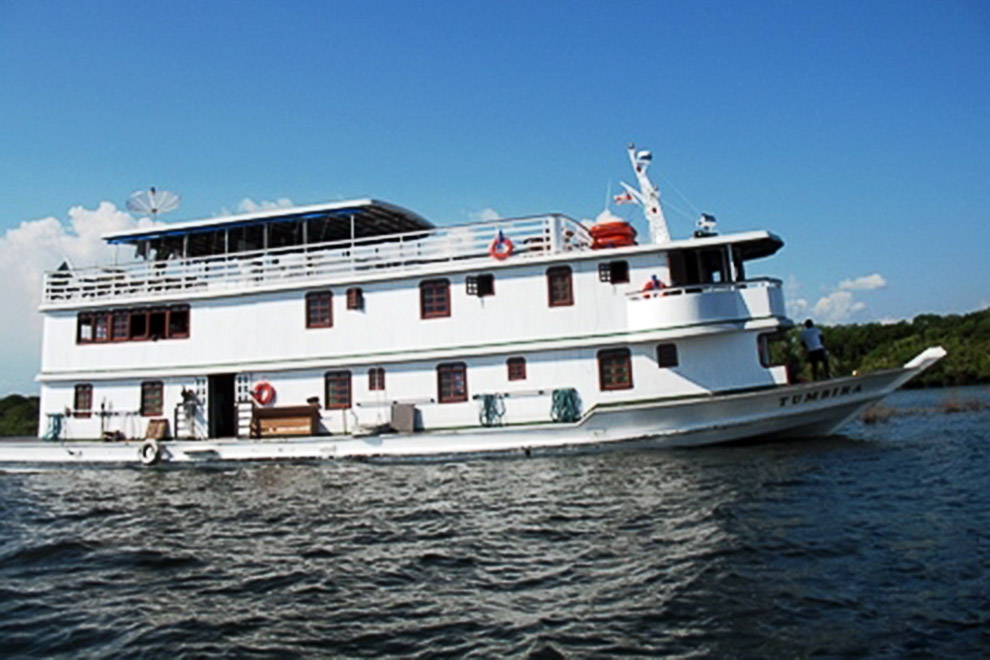 Come discover the true Brazilian Amazon with us and ask for further details via This email address is being protected from spambots. You need JavaScript enabled to view it. or our Contact Form.
I am looking forward to meeting you on the trip of your Lifetime !
Peter Rohmer
travelogue
Travelogue
By Helga and Manfred Leubner and Norbert Braunitsch
A very special voyage
Brazi - How many pictures and imaginations are tied to that name?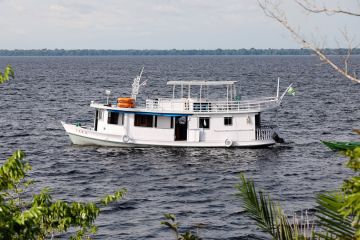 We, my husband Manfred, our friend Norbert and myself, wanted to get to know this country better, away from the mainstream tourist routes. We called on Peter Rohmer from Southern Cross Tours & Expeditions, in Brazil, who knew instantly to accommodate our plans perfectly. He worked out an amazing three parts itinerary, dividing it into Deep Amazon – Jaguar Safari – Wildlife Photography.
From Manaus, the capital of the Federal State of Amazonas, a Metropolis amidst lush jungle environment, we started to penetrate the Amazon Rainforest and its rivers on board a private houseboat. Our destination was São Gabriel da Cachoeira, a frontier town between Brazil, Venezuela and Columbia, some 1000 kms. upstream the Rio Negro River. The boat was fitted with 2 double air-conditioned cabins and equipped with a crew of five professionals who made our journey absolutely unique. A 10 days journey that would bring us new adventures every day.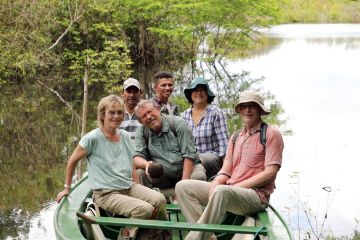 Right from the start we were deeply impressed by the awesome size of the Rio Negro, which merges with the Rio Solimões near Manaus and runs from there on as Rio Amazonas towards the Atlantic Ocean. From Novo Airão to Barcelos over thousand small islands were tucked into the huge river making the area a perfect place to be explored on our jungle hikes. Flooded forest, here called Igapó, amazed us as we canoed over the treetops. Smaller tributaries of the big rivers are called Igarapé, inviting us both to fish piranhas and to take a swim at safe places. The tea like black water of the Rio Negro produces fantastic reflections of the surrounding forest, suggesting that one is floating on the river.
Lucia, our competent guide took us on easy jungle walks into terra firme and várzea forest to explain the interaction of flora and fauna of the different Amazonian Rainforest environments. We were shown a variety of medicinal plants that are the basis of modern medicine. Lúcia also took us to river people, called caboclos. These people live from the river and forest where we could witness the use of their simple but effective tools to work on their plantations and produce their provisions.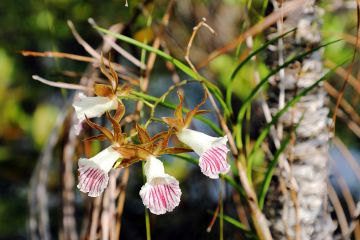 At São Gabriel da Cachoeira we were received by Branco and Xurimã, Peters staff at this deep Amazonian outpost. From here we wanted to visit the Yanomami village of Inhambu. As all permits had already been arranged for we boarded a Toyota 4x4 pick-up truck and hit the worst dirt road I ever I have ever driven on. It had rained and the car got stock again and again in the wheel high mud. It took 5 hours to master the 70 km to Balaio! Another 3 hrs with the voadeira fast boat on the Ia mirim river, our fast boat and we finally reached Inhambu. The chief called tuxauá and many others came running to greet us warmly before we were taken to our "accommodations" an open roof thatched hut, serving also as a "conference room". We just loved it and accommodated ourselves happily in our hammocks.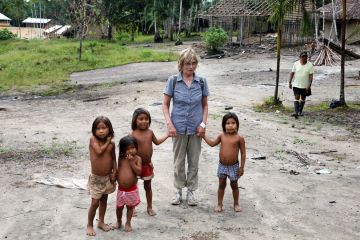 We spent the following days with members of the tribe and were allowed to walk freely through the village making acquaintances and, with the help of our guides, gathered stunning information on their way of living in the past and today. We have also been introduced to their mystical word and the parika rite. They took us to the forest and rivers where we learned interesting details about their relation with nature and their hunting and fishing practices. In the evenings we bathed in the Ia river the same way the yanomamis do. This was a very stunning and very different world to us, particularly as on the whole voyage we did not meet up with any other tourist.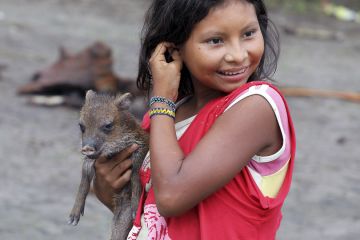 Zero comfort but an extraordinary and unique experience, made possible through tireless and insisting efforts by Peter Rohmer and his local team, as he assured us personally. Saying good-by was not easy as we will keep this experience in our minds for the rest of our lives.
We returned to São Gabriel and hit "civilization" in Manaus again, where we were accommodated in a wonderful hotel. The next day we flew to Cuiabá in the Federal State of Mato Grosso, to start another highlight of our trip: The Jaguar Photo Safari.
Peter had made arrangements with his excellent wildlife guide Julinho who picked us up at the hotel in Cuiabá. The 125 wooden bridges of the Transpantaneira dirt road were negotiated rather slowly, but it was not nearly as challenging as the muddy stretch, called road by some folks, leading us from São Gabriel to the Ia mirim River. It could rather be compared with a Zoo or Birds Park as we could see Cayman, Capibara, Yellow anaconda and numerous species of huge water birds taking charge of both sides of the road.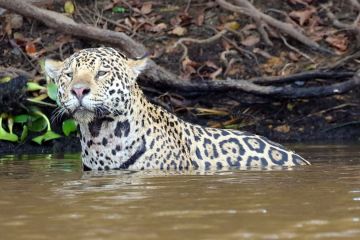 We were supposed to stay 6 days in the region and would do the most part of the safari by boat on the rivers Cuiabá, São Lourenço and Piqueri. And were we lucky: on the banks of those rivers we totaled 24 sights of Jaguars in all kinds of positions and attitudes. We watched him prowling  on the river banks, ambush and hunting prey like capybara and cayman. While we were watching with fascination the cat did a giant and frightening jump in our direction. Luckily the aim was not us but a cayman which got away.
The largest rodent on the planet is the capybara Hydrochoerus hydrochaeris. They are cute and animals but watchful at all times. Despite their playful and vivid attitudes enormous giant otters Pteronura brasiliensis are respectful, courageous and sometimes even aggressive animals. On walking safaris we saw giant ant-eaters, coatis, tapirs and even the jaguar crossed our path on two occasions at a relative safe distance.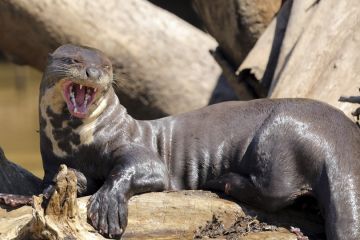 According to Peter's suggestion the Nhecolandia savannah in the Southern Pantanal would be ideal for easy wildlife observation on the open lands of his partner Fazenda. So we flew southbound from Cuiabá to Campo Grande, the capital of the Federal State of Mato Grosso do Sul. To our pleasant surprise Peter was at the airport to meet us. He took us to a Hotel, some 4 minutes away from the airport for overnight.
Next day we flew with a private 2 engine aircraft from Campo Grande airport to the private air strip of the Nhecolândia Fazenda. The low flying plane offered not only awesome views over land but also shortened the transfer to 1½ hr instead of 6 by 4x4 vehicle an another dirt road! Very recommendable.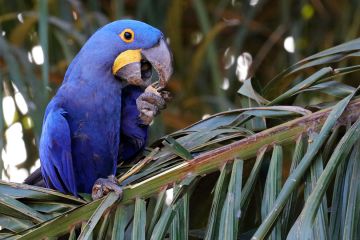 The 18.000 ha property was set in appealing scenery that could not be more different from that of the Northern Pantanal. The Pantanal is a temporarily flooded region with 6 month of each dry and rainy season. Late and heavy rains in March had produced green pastures even in midst dry season. Lakes, pools and ponds contrasted charmingly with framing gallery forest. There were no roads, buildings, transmissions lines, just Nature and overwhelming scenery. A Paradise!
For our 2 outings daily we took a 4x4 Landrover. There were most of all the mammals of the northern Pantanal but they were easy to photograph. The Fazenda also hosted two conservation projects for the Giant Armadillo Priodontes maximus and the Tapir Tapirus terrestris. What impressed us deeply was the unbelievable number of birds. Many species of egrets, herons, ibisses, ducks, gooses, storks, including the majestic jabiru giant stork, roseate spoonbills, tukans, kingfishers, blue and yellow macaw, hyacinth macaw and the green winged macaw, several species of parakeets and wood peckers, owls, birds of prey and many others. The Pantanal host some 600 species of birds and we were amidst them. This would drive birdwatchers out of their minds!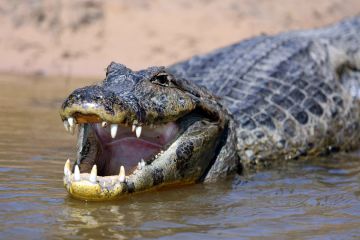 Another highlight here were the Brazilian cowboys, here called peões. The Fazenda is a cattle ranch with 12.000 Nelore cattle and over 200 horses. We rode with the peões to the outer limits of the property to look after cattle and watched their work which is still done the traditional way. There is nothing fancy to the 3 sheep skin layers on their saddles or with their lariat that is still from raw hide made by the peões themselves. We helped driving cattle and felt like having realized our dreams from our youth when being a cowboy was all you wanted to be.
This absolutely special voyage will stay in our minds for a long time to come.
Our sincere thanks go to Peter Rohmer and his fantastic team of Southern Cross Tours & Expeditions. His perfect planning made this individual tour successful and delightful.
continue to the guest comments
guest comments
Guest Comment
Anita und Rolf
Dear Peter,
After arriving back home and having solved the most important things that were waiting for us, we would like to thank you for taking care of us. All we can say at this point: well done!
Splendid organization, perfect planning and always somebody at hand to talk to (a huge thank you goes to Nicole). The Best of the whole trip was without any doubt that week we spent on board the IARA on the Rio Negro in Amazonia. We had the boat just for us, awesome! The crew: Carlos, a super pilot plus an outstanding fisherman, he got them all, left us with nothing…..the dream cook and David who prepared the best caipirinhas ever. Then there was Lucia our German speaking guide, who did not fail to explain with knowledge flora and fauna and much more of the region. Not to forget the boss Jorge, who was our sick chicken, due to a bike accident he had suffered just on the day of our departure. The Fazenda in the Pantanal was equally fascinating. We were excellently accommodated and felt among friends. But the attraction there was the wide array of wild animals. We were invited to witness the field work of the Tapir Protection project, have seen Giant and lesser ant eaters, Cayman, Capibaras, the largest rodent on earth and a great many variety of birds, including Jabiru Giant stork, several kinds of egrets, herons and all the 3 big macaws which are the yellow blue, the red and green wing and the biggest of them the Hyacinth macaw, in the palms right at the doorstep of the main building. We even saw tracks of the elusive Jaguar….
Peter, our thanks go to your team at Southern Cross & Expeditions and all who hosted us so well in Brazil.
Our best wishes,
Anita and Rolf