overview
Expedition Overview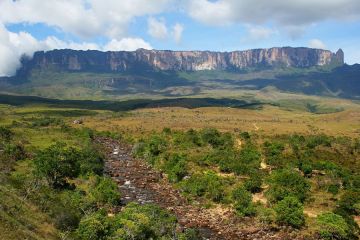 The expedition to Mount Roraima covers one of the most impressive landscapes of South America: the Gran Sabana, in Southern Venezuela. A huge highland of some 14,000 sq miles, covered by mysterious table mountains, called tepuys (also tepui), with difficult access and many of them still undiscovered by science. A region that has been isolated for millions of years and where nature has developed endemic species on each of the tepuys, with a density rarely seen elsewhere, except Galapagos Islands. A world that has been described in the tale "The lost world" by Scottish writer Conan Doyle (Sherlock Holmes).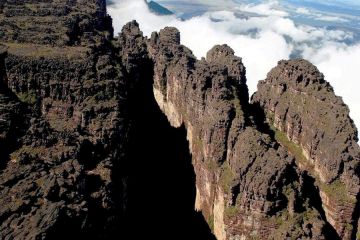 The aim of the expedition is the 2,810 m high Roraima table mountain (tepuy), located in the border region between Venezuela, Brazil, and Guyana. Here we will penetrate one of the oldest regions on the planet. Even for experienced trekkers and natural adventurer, this expedition is a special and unforgettable experience. Not just another hike or outdoor activity, it is instead an unique trip for Nature lovers.
The geological formation of the region is assigned to the Cambrian, which belongs to the lowest geo-chronic system. The Cambrian therefore corresponds to the period before about 542 to 488.3 million years ago, where the origin of mankind was not even to think about. With our Mount Roraima Tepuy Tri-State Expedition package we have developed a 10-day program that offers the possibility of some of the most spectacular places on the Roraima plateau.
itinerary
Expedition Itinerary
The travel schedules may suffer alterations but will whenever possible be informed prior to start of the expedition (see disclaimer warranty)
Day 1
Arrival in Boa Vista, reception at the airport and transfer to the hotel
Day 2
9:00 am group briefing on the expedition (exact venue to be confirmed),
4:00 pm Boat tour, the evening is free to design and Overnight in Boa Vista.
Day 3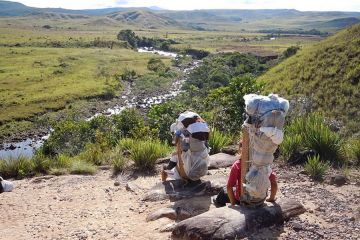 5:00 am departure from Boa Vista 9:00 am arrival in Santa Elena de Uairen followed by breakfast, 10:00 am departure to Paraitepuy 12:00 am arrival in Paraitepuy. The expedition equipment and baggage is now distributed between the carriers before the group takes on the 15 km trail to the Tek river, which consumes about 5 hrs. Having arrived there we will set up our first camp. While dinner is being cooked, we relax and have a look around the area. After dinner we socialize with our guides and carriers before we hit the tents for a well earned rest.
Day 4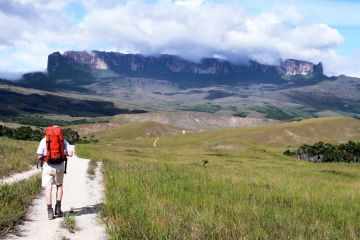 Breakfast, followed by the start of our tour at the foothills of Mount Roraima. For the 8 km hike we will need approximately 4-5 hours. Although the track appears to be rather short it is quite strenuous though, because we have to negotiate about 70 % of the total altitude of the Roraima plateau.
We estimate to arrive around 2:00 pm when we pitch our camp. Before we dig our heads into pots and plates for a well-deserved lunch, you may want to take a refreshing dip in the cold streams. The afternoon is free for relax or activities around the camp site such as photo safari on wildlife, plants and flowers. Some may want to meditate surrounded by exuberant nature. There will be a briefing on next day´s undertakings, followed by dinner and overnight.
Day 5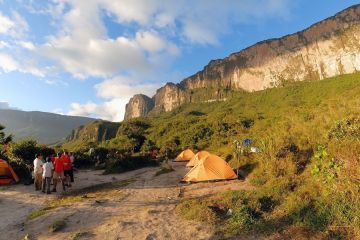 After breakfast we depart for the summit. We calculate approximately 4-5 hours for the 4½ km uphill hike and climb. During the climb we will be crossing rapids and waterfalls. Having arrived at the top of the mountain we take a break before we continue on the trail to reach our camp site. We have now the whole afternoon for explorations on the summit of Mount Roraima. Flora is specially endemic, reaching from carnivorous plants to bromeliads like Broccinia and Orchids like Ecyclia. You may also be able to watch the cock-of-the-rock's Rupicola rupicola spectacular courtship performance, or the Bearded bell bird Procinias averano.
After dinner you will your first night on the top of Mount Roraima.
Day 6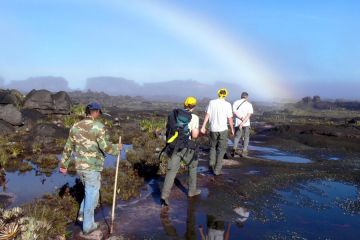 Breakfast. This will be an easy going day, with light hikes and no backpacks. We will visit Maverick Rock (the highest point of Mount Roraima), from where one can see all the vastness of the Gran Sabana (including the trail we followed to reach the base). From here we walk to the jacuzzi tubs (where we can bath) and continue along the "La Ventana Wall". From various lookout points we admire the grandiosity of the neighbouring Kukenan tepuy, with its various waterfalls. There is also an immense valley covered with dense forests between the two tepuys. The views are just breathtaking. The right moments to be still, "hear the silence", and let the wind touch your soul.
After this unforgettable and magical moment, we take the Crystal Path, and dive into the energy of this place. The silence here should "speak louder". On the return to camp, one can admire the Cathedral Fall, where you literally will feel yourself in a Sanctuary. The stop here is a must stop before arriving back at the camp for another night on top of Mount Roraima.
Day 7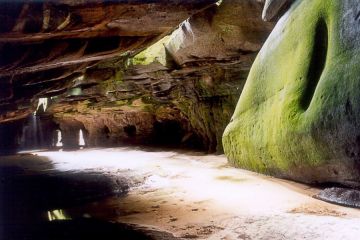 Departure after breakfast for dos Vales Cristais (crystal valleys), El Fosso and triangle. We need to take our backpack for day use as we will hike nearly 4 hours to reach the tri-state border, where we stay about 1.5 hours taking pictures, exploring the environment, recreation and have lunch. The way back is a little bit easier so that it would take a bit over 3 hours. We will arrive at the camp site in late afternoon.
The about 7 hours hike has probably taken its toll and everybody is hungry and tired. Dinner expertly prepared by our staff, will be ready by then. We hit the tents for the third night on the summit.
Day 8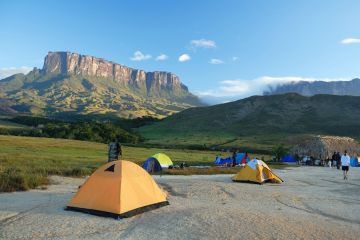 After breakfast and breaking camp we depart on our way back to civilization. With a about 4 hours descent and a break of about 40 minutes to rest and eat, we should arrive at our Rio Tek camp around 3:00 pm.
That leaves us time to rest, take a bath in the river or go for another photo safari near the camp site. The day ends with dinner and overnight.
Day 9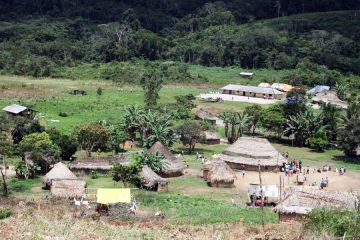 We have set 8:00 am for departure for the last stage. After another 4 hours hike, covering 15 km, we arrive again at the village of Paraitepuy. We have to undergo a routine check by Inparques National Park Authorities before we head back to Santa Elena de Uairen and Boa Vista, where we estimate to arrive around 8:00 pm.
Depending on flight schedules we transfer you straight either to the airport or to your Hotel in Boa Vista.
Day 10
Transfer to the airport for travellers who stayed overnight in Boa Vista.
continue to the prices & travel dates
prices & dates
Prices and Travel Dates
Mount Roraima Tri-State Expedition
Prices
5 or more participants
2,700 US$
p.p.
4 participants
3,100 US$
p.p.
3 participants
3,650 US$
p.p.
2 participants
3,900 US$
p.p.
Travel Time
10 days / 9 nights
Dates
Please contact us regarding actual dates
Prices are subject to change, please re-confirm with Southern Cross Tours & Expeditions before booking.
Included
All Services as described in the itinerary, in particular:
All transfer costs
Accommodation in Boa Vista double/single room occupation, breakfast
Full board during the trek: breakfast, light lunch and dinner
First Aid Kit
Travel Insurance
Complete Camping equipment including tents
Kitchen utensils etc.
Expeditions guides
Carriers for the general equipment
Entries and fees for the visit of Inparques (national park authorities) and the indigenous community at Paraitepuy
Not included
Food costs in Boa Vista and Santa Elena, beverages
Private carrier, can be hired against add-on
Additional services required and not mentioned in the description or itinerary
Additional information
The groups are organized by Southern Cross Tours & Expeditions.
The departure by boat on the second day is at 4:30 pm sharp. The boat will not wait for late arriving travellers. Southern Cross Tours & Expeditions will automatically cancel the expedition for late travellers or no-shows. No refund will be paid by Southern Cross Tours & Expeditions.
The itinerary and schedule of the journey starting and ending in Boa Vista is subject to changes due to weather conditions or other circumstances that are not within our power.
Accommodation on the camp ground is provided for each 2 persons per tent. For an add-on of US$ 220 a single tent can be provided.
The meal plan includes breakfast, a snack for lunch and dinner. Additional or special food can either be provided against payment but must either be carried by the traveller himself or by paid carrier.
The difficulty of the program is by and large, light to medium. The trails however on the ascent and descent to/from Mount Roraima are rugged with lots of ups and downs. Trekking experience and good physical conditions are therefore required.
We do not recommend this tour for persons receiving medical treatment - The minimum participation age 14 years
Health
Make sure you bring your International Vaccination Certificate.
Vaccines mandatory: yellow fever, hepatitis, tetanus.
Vaccines not mandatory: malaria prophylaxis.


Disclaimer of warranty
This journey has the character of an expedition. Rivers and rainforest replace highways, streets and roads. The conditions which are encountered on route will be completely new for the traveller. A correct attitude and mental preparedness for a different and fascinating environment is imperative. The unexpected can happen, whereupon the traveller is expected to react flexible and, depending on the situation, relaxed or immediately. The guides with their knowledge of the environment, are experienced trekkers and expedition leaders and absolutely reliable. The willingness of the traveller to cooperate and interact tolerantly with other participants is required also in strenuous situations. As operator we disclaim ourselves of any warranty for any risk during this journey.